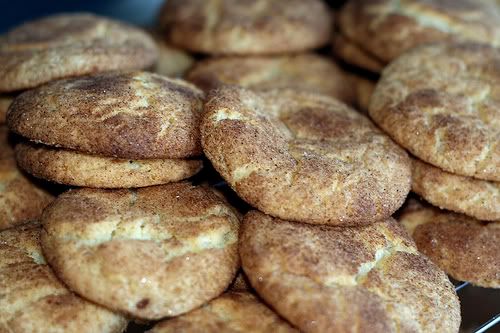 I Love Snickerdoodles. I make them every holiday season. They are just so comforting and tasty. Nothing better than warm snickerdoodles and a glass of milk.
Stupid name, great cookie. These snickerdoodles, if kept in a tupperware, will stay soft and moist and not get hard like stale toast. The cinnamon to sugar ratio is just right, so there is no cinnamon overload. everyone should have these ingredients in their cupboards.
SO here is the greatest Snickerdoodle recipe I have ever found.
SNICKERDOODLES:
1 cup butter, softened
1 1/2 cups sugar
2 eggs
1 tsp vanilla
2 2/3 cups flour
1 1/2 tsp baking powder
1/2 tsp baking soda
1/4 tsp salt
in a separate container, mix together 2 TBSP sugar and 2 1/2 tsp cinnamon and set aside for later use)
Cream together butter and sugar. Beat in eggs and vanilla, stir in flour, baking powder, baking soda and salt.
Dough will be sticky.
Dust hands with flour and roll heaping tsp of dough into balls.
Roll balls in the cinnamon/sugar mixture and place on UNGREASED baking sheet, 2" apart. DO NOT FLATTEN.
Bake at 400 degrees for 8-10 minutes or until edges have set and are a nice golden brown.
YUUUUUMMMMM!
Enjoy!